Hino a long and storied history
Hino Motors Canada Ltd., is the exclusive distributor of Hino products in Canada, and is part of the Toyota Group of Companies. Hino Canada's head office is located in Mississauga, Ontario with regional representatives located in Quebec and Vancouver. More than 40 years of history in Canada, Hino is well known as a supplier of high quality, medium duty, single axle straight trucks which range from 14,500 lbs GVW to 35,000 lbs GVW.
In May 2006, Hino opened its assembly plant in Woodstock, ON. This 174,000 sq-ft facility employs over 100 staff with the capacity to produce 3,200 units per year. Using leading edge engineering and manufacturing technologies, Hino produces reliable, comfortable and cost efficient trucks.
Our customers have come to depend upon the outstanding reliability and superb fuel economy of our trucks, which are often required to operate under very demanding conditions. Hino's concern for the environment and their superior engineering capability ensures compliance with the most stringent emissions regulations. Together with our coast to coast dealership network, we are committed to providing the highest level of customer service possible, with a dependable parts supply and service availability.
LIGHT DUTY CAB‑OVERS
Hino's signature vehicle comes in five models—one of which will be perfect for your serious but light-duty urban delivery or shop-van needs.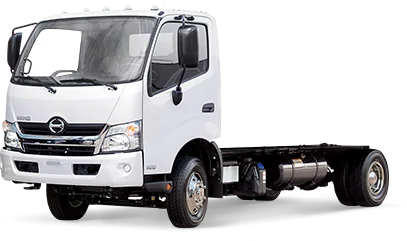 MEDIUM DUTY CONVENTIONALS
Available in five models, Hino medium-duty trucks are maneuverable, reliable and as formidable as any task you put them to.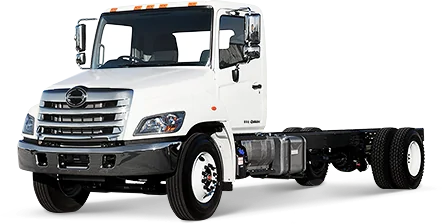 HEAVY DUTY CONVENTIONALS
With a proven track record, the state-of-the-art Hino A09 turbo diesel engine powers the new Hino XL Series.