All service and repairs are provided at 510 Whissell Ave. Sudbury ON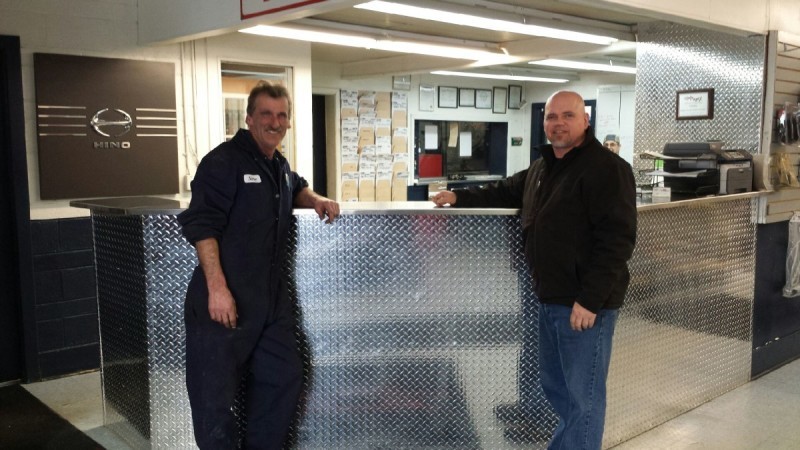 What differentiates Sudbury Truck & Trailer from other local shops & dealers is the wide range of services we offer:

Atlas Polar Dealer "Hiab Cranes, Moffet Forklifts, Polar Wireless Remotes" Sales & Service
Sno-Way Dealer
Waltco, Mayou, Ohollandia Liftgates "Sales & Service"
CWB Certified Welding Facility
Collision Centre with 60′ paint booth
Vehicle Alignments, Hunter Engineering Certified
Truck & Trailer Van Body Repairs : all aspects "Body & Structural" including: outer wall panels, roof skins, radius corners, side rails, doors both barn style & roll-up
Live Bottom Belt & Chain Repairs
Spring Repair & Manufacturing
Suspension Retrofits
Wheelbase Changes
U-bolt Manufacturing
Trailer king pin replacement, overhauls & new coupler plate fabrication
PTO & implement install such as Hydraulic Pumps & Product Blowers
Hydraulics Cylinder Repairs & Replacement "including large bore dump cylinders"
Engine, Clutch, Transmission & Drive axle Repair & Replacement
Vehicle Service body installations ex: Dumpbody, Van Body, Flatdeck, Tanks…
Industrial Sandblasting
Preventative Maintenance Inspections & Servicing
Air Conditioning Repairs
Pick Up & Delivery service for trucks & trailers
Fibreglass & Aluminum Watercraft Repairs
We Fabricate & Repair Springs!
Our Sudbury location has the equipment and knowledgeable staff to meet the demands of all spring work. Our most popular jobs include:
Spring Repair on Pick up Trucks and Passenger Vehicles:
To repair your leaf spring(s) in a cost effective manner, we can replace individual leafs from a spring pack. We recommend that when replacing a broken leaf in a spring pack that the same leaf in the opposite spring also be replaced. 
Add & Re-arch on Pick up Trucks and Passenger Vehicles:
Weak springs sagging under load? Add a spring leaf in each rear spring packs of your Pick up Truck, Van or RV for only $325.00 installed ( *plus applicable taxes)
Manufacturing:
If your spring is obsolete or if you have a special application for which no spring is available, we can forge springs to meet your needs. We have the equipment to roll spring eyes, to press bushings and adjust arch.
Spring Sales and Installation:
We sell and install quality springs for all automotive, truck and trailer applications. Our installation rates are highly competitive.
Also, U bolt Fabrication from our huge inventory of threaded rod!
Vehicle Alignment Services
Impacts of Alignment on Safety and Operating Costs
Vehicle alignment is a major area of concern because of its direct implications on the life of tires, fuel economy, and safety. Alignment is often thought of in connection with the steer axles only. However, it has been recognized for some time that the rear axles on a tractor also must be properly aligned, and that "tractor and trailer" should be aligned for optimal performance. Misalignment can cause a variety of problems, including irregular tire wear, uneven braking, fuel economy loss, and vehicle vibration.
Tire Wear:
Various types of misalignment cause tires to "scrub" and oppose each other. Excessive and/or uneven tire wear is known to reduce control of steering inputs, particularly on low-friction surfaces (e.g., wet pavement), thus compromising the operator's ability to execute quick, precise maneuvers.
Fuel Economy:
Misalignment between front and rear axles on a tractor, and/or between the tractor and trailer units themselves (e.g. "dog-tracking"), causes the engine to work harder because rolling resistance is increased-and fuel economy suffers.
Vehicle Vibration:
Misalignment conditions can often lead to higher-than-normal vibration levels in the steering wheel and/or operator's seat. The result can be an uncomfortable ride that contributes to driver discomfort, muscular fatigue, and stress. Such vibration can also increase wear on suspension and chassis components.
Our 2015 up-to-date Hunter Engineering laser alignment system supports over 60 different axle configurations and is loaded with all OEM alignment specifications. Our Hunter Trained & Certified technicians can diagnose & correct even the most complex alignment issues.